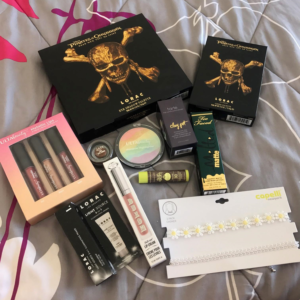 What's fresh at ULTA?!?! Spring is here! When seasons change, fashion and beauty looks change. When a new movie comes out, new makeup themed palettes are created. (Hint, Hint 😉) New products are being packaged and sold! The theme here is new, new, new! So, what did I buy for my latest ULTA Beauty haul? Let's take a peak!
First off, we have Lorac's newest collection; Disney's Pirates of The Caribbean: Dead Men Tell No Tales Collection, which features the latest installment of the movie franchise. This collection features an eyeshadow palette, a cheek palette and dual ended lipsticks. I bought the eyeshadow palette and the cheek palette. The ULTA that I shopped at didn't have the lipsticks in yet. The eyeshadow palette comes with 18 shades, a mirror, and a mini black eyeliner pencil. The cheek palette comes with 6 shades; 2 matte blushes and 4 highlighters. The cheek palette fits inside of the eyeshadow palette, in a secret compartment. I figured, I HAD to buy both of them. As a gift with my Lorac purchase, I received a mini sample of the Light Source Illuminating Primer. The eyeshadow palette runs for $52, whereas, the cheek palette is $30. Stay in touch for an upcoming review of this collection, coming up real soon 😊.
Next, we have a few new items from ULTA Beauty's line of products. At the time of my purchase, ULTA had a sale going on; buy two ULTA Beauty products, get the third free. I took advantage of that and bought; the 3-piece liquid lipstick kit, the bronze gel eye liner, and the rainbow highlighter. The lipstick kit features three metallic liquid lipsticks; a red, a gold and a berry. This kit runs for $16. The bronze gel eye liner isn't new, I just wanted to try it and was what I saw when it came to choosing three items for the deal. The eye liner is $10. The rainbow highlighter is really pretty. I have another rainbow highlighter from Forever 21 that's comparable, but this one from ULTA swatches golden hues and is creamier. ULTA's highlighter retails for $10.
Buxom recently launched limited-edition shades of their super popular lip-creams. I had never tried Buxom, prior to this purchase. As soon as I saw the diamond sitting on top of the bottle, I knew I had to have it. So cute! I bought the shade; "Blushing Margarita," which is a pretty nude. Buxom's lip products are known to plump lips. As soon as I put this on, my lips started tingling and looked fuller. I am so obsessed with this product, that I've been using it every day. This product sells for $21.
Tarte cosmetics launched a rose gold clay pot, which is an Amazonian Clay Waterproof Liner. This product retails for $21. The pigment is super smooth and creamy, it swatches pink with silver glitter.
Too Faced Cosmetics introduced their newest collection; Natural Love, which features and eyeshadow palette, melted matte liquid lipsticks, highlights and brow pencils. I bought a melted matte liquid lipstick in the shade; "Wicked." "Wicked" is a deep forest green shade. These lipsticks sell at $21 apiece.
Sun Bum creates sun care products. I'm obsessed with their lip balms! Each lip balm has spf 30, aloe vera and vitamin and ranges in different scents.  My favorite scent is Key Lime. These lip balms sell for $3.99 each.
Lastly, we have a Capelli New York set of 2 chokers. One choker features a string daisies, the other consist of white lace. These retail for $4.99.
As the saying goes; "treat yo'self!" Hauls don't come often. It's always fun and therapeutic to spoil yourself from time to time.