Also in New Mexico News Port
By: Courtney Salinger and Taylor Rains
ALBUQUERQUE, N.M. — Over the next two years,  popular entertainment chains TopGolf and Urban Air will swing into town.
With this Albuquerque residents can start to see new, fun, and interactive entertainment venues hit the scene. This could bring more business and traffic through the city.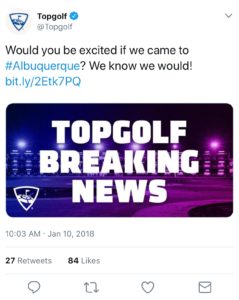 Screenshot of Topgolf's tweet announcing an Albuquerque location/Topgolf
Top Golf features different games surrounding golf, dining, and drinks. The company is set to open in spring of 2019, located at Montano and I-25. Top Golf will replace the location of Albuquerque's The Beach waterpark, which closed down in 2004, due to poor health inspections.
Urban Air Adventure Park is a trampoline park which features basketball, rock climbing, indoor skydiving, virtual reality, a warrior course and battle beam, a kid's area, a roller coaster, a cafe, and much more. The company is set to open sometime this year, off the Pan American freeway.
Albuquerque currently has two main entertainment venues, Dave and Busters and Main Event.
Dave and Buster's offers a sports bar, dining, and video games. The company opened its doors to Albuquerque in 2014. Dave and Buster's tends to receive new game options every couple months, with Wednesday's being half price on all games.
Main Event offers bowling, video games, laser tag, billiards, gravity ropes, and dining. The company has been in Albuquerque for two years. Main Event plans to continue expanding throughout the country.  
Dave and Buster's has a curfew for citizens younger than 18, which is open until midnight. For 21 and older, they are open till 2 a.m., depending on the day of the week. Otherwise, Dave and Buster's, Main Event, Urban Air Adventure, and Top Golf close around 1a.m.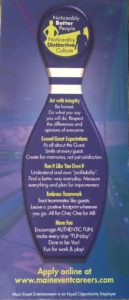 Audri Sanchez provided us with a pamphlet with Main Event's core values on the back/Taylor Rains
General Manager of Main Event Ronnie Prieto is not intimidated by the competition as he knows that they have more to offer, he said.   
People enjoy it (Main Event) so much more because they come with more than just one attraction such as golf or trampolines, Prieto said.
"We have an arcade, it's a family establishment, and on top of that it is a full restaurant and a full bar. And we also have a bowling alley," he said.
Prieto thinks with the new attractions, Main Event might see a dip in business and activity but since TopGolf will be right across the street, he's guessing everyone will end up at Main Event anyway, he said.
"I honestly think it will help us. Think about it, there will be long waits and everyone will come over here. And on top of it, we've been the number one center in the company for all of last year. It's what Albuquerque wants," Prieto said.
Terra Gelinas, a student at UNM, thinks that having more options available to residents will not only give people more to do, but it could also better the economy for New Mexico, she said.
"I think having it come here will expand in what people can do for fun and have economical benefits for another place people can spend money at," Gelinas said.
While Gelinas thinks expansion of entertainment opportunities is a good thing, she said she likes Main Event because it provides something new and exciting to do.
"I like that they have options for adult friendly events because they are open much later and it's another thing to go do on a weekend night… I like the two story laser tag because it's different than anywhere else in town… It's nice being able to order food and drinks at the bowling area as well because it's a little nicer than other bowling alleys," Gelinas said.
Gelinas did voice concern in regards to the incoming business Urban Air as opposed to Top Golf as she said there are already a few trampoline parks that seem to compete amongst themselves.
"Adding a third may be difficult to make a profit, whereas Top Golf is going to be the first one in Albuquerque," Gelinas said.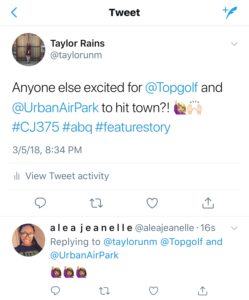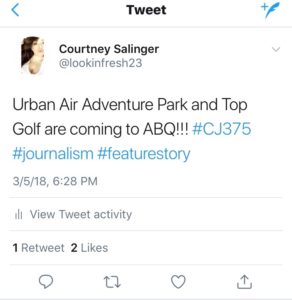 Screenshot of tweets showing community excitement/Taylor Rains, Courtney Salinger
In addition to each attractions that these companies bring, they also hold fundraising capabilities and offer parties and special deals for big groups. Most of the companies offer rentable rooms and dining areas for any special occasions.